Physical security
In the spotlight with Maarten Mijwaart: Adding value with security technology
Calipsa
10 October 2019
Physical security
Industry experts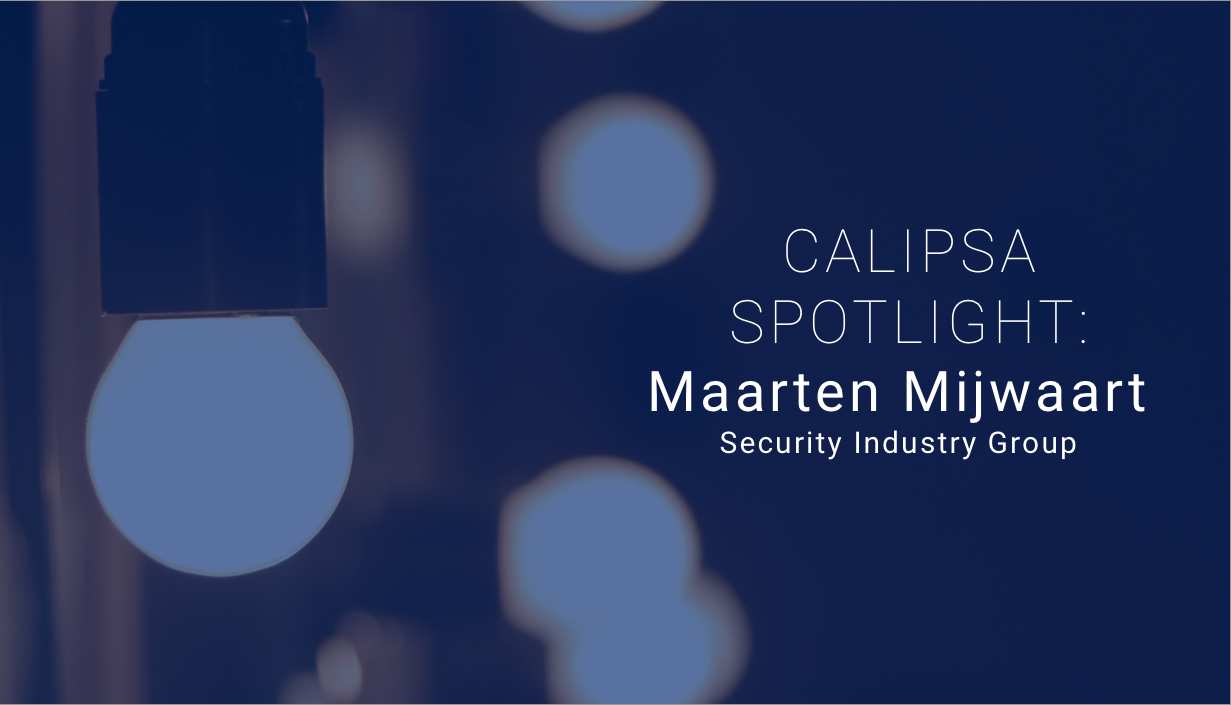 Maarten Mijwaart, Founder of the Security Industry Group, shares his thoughts on communication and technology in the current security landscape.
In our latest Calipsa Spotlight article we interviewed Maarten Mijwaart, owner of Explicate, a consultancy company which focuses on streamlining commercial communication within the security industry. He is also the founder of Security Industry Group, a networking organisation for security professionals which attracts over 100,000 members worldwide.
In his interview, Maarten shares his views on how better communication and technology can add value to the security industry.


Tell us about your background
I spent over 12 years working for Nedap, a multinational technology company that focuses on supplying security and electronic control control solutions. The majority of my time at the company I was Managing Director of their Identification Systems group where I had the opportunity to travel to many industry trade shows. When I left earlier this year, I decided to proceed with something I started a long time ago: The Security Industry Group. The idea was that, as I was now no longer tied to a vendor, I could create a communications platform to support the security industry.


What is the Security Industry Group?
The Security Industry Group is an international group of companies and professionals from within the security industry: manufacturers, integrators, installers, vendors, consultants and security managers. Since founding the LinkedIn group, it now has grown to over 100,000 members and it has an associated website which acts as an online trade show for security vendors.
My mission for the group, as well as for my consultancy Explicate which I also founded earlier this year, is to make complicated products, processes and messages easier to understand. When you look at security tech, you will always see that there are vendors providing sophisticated technical solutions, however the people buying them don't necessarily have the same understanding of technology. There often seems to be a gap of comprehension between buyers who are focused on processes, and the suppliers who are more technical. Through my consultancy and the Security Industry Group platform, the goal is to bridge this gap of comprehension between vendors and end-users to effectively tackle the issues that security managers are dealing with.

What are your views on communication within the industry?
I used to spend a lot of time and money travelling to trade shows to showcase our products yet when I spoke to people and tried to explain how it worked, it was hard to do so in a comprehensive way. When your audience is strolling through an exhibition, it's often difficult to give them the full essence of your products and as a result, they usually forget by the time they get home. Manufacturers, trying to launch a new product or solution to market, regularly face this communication challenge. They want to spread the message of what it is their new product is trying to solve. However, for those that are less informed about tech, those messages can be puzzling. It's critical that we communicate in the right way so that it is more digestible and understandable for everyone.


What is the biggest trend you are hearing from security professionals today?
The availability of software based tools and functionality is increasing at an astonishing rate and hardware is becoming more of a commodity. Video is a good example. Just look at GSX (ASIS International's Global Security Exchange); 80% of the show is now to do with the processing of video images and turning that data into valuable insights you can act upon. From data analytics to video surveillance, there's a lot of interesting and effective software based solutions out there whether they be server-based or cloud-based, and even on mobile devices which are now better at processing information. Only in specific niches, like long range RFID, the design of hardware, antennas and electronics really makes a difference.


How has the rise of video monitoring influenced the industry?
Around 10-20 years ago people were focused on having as many cameras as possible with a high resolution and wider scope to monitor everything they wanted to and prevent people from doing things they shouldn't. But the industry has come to learn that not all footage can be processed by people. We need to use technology to assist and focus human attention on identifying real incidents and trends, especially when only 1% of video footage is relevant.
The biggest thing for those doing video monitoring is to find out how you can allow your human resources to focus their attention on data and information that matters. This is what I have seen from Calipsa. What I like about the False Alarm Filtering Platform is that it isn't trying to reinvent the wheel and get people to reinvest in new hardware, but rather make use of what is there and apply a layer of intelligence to get more relevant information out of the architecture that is already there.


How important is technology in shaping the future of the security industry?
We see the importance of technology in daily life. Being entertained or communicating with friends wouldn't be the same without tech and we are surrounded by technological aids. This is reflected in the security industry with the convergence of the physical and virtual worlds. Of course, there are still many silos we need to break down in the decade ahead of us but it's clear that the industry cannot just approach things from just one side anymore. Those two worlds are intertwined and we need to act on that.


What are the current limitations in security technology?
If we want to deploy tech effectively, we should focus on what the application requirements are. There are many vendors who are in principle capable of technically developing something, but sometimes the characteristics and features of solutions are not sufficiently geared towards to requirements of the application. On the other hand you see security managers who are trying to figure out how to deploy technology in their field to solve real challenges. If you are working on a business case, it's important that you consider what the requirements are to support that business case properly. Sure, we can do video analytics and threat detection in an automated way, but why? We must validate the need with questions such as; what is it that you see that requires this, what are the odds of having a valid trigger, how do you process the information, how well equipped is it with supporting data and acting upon it. It's not sufficient to just have a concept - we have to focus on the application to have a proper solution in place.


What are your predictions for the next 5 years?
We recently published a Security Industry Group article about technology becoming disruptive. The trend moving towards video and data analytics is going to proceed to happen. We will also see more and more enterprise type monitoring installations. There is also the trend of using smartphones and wearables, first to be informed but also to help people do their jobs more effectively. On the flip side, many CFOs consider security a cost instead of an investment. We must make sure that there is willingness to invest in security by supporting the primary processes of our clients in a good way. I also predict that the debate about how to safeguard personal interests and prevent the abuse of tools and information will continue in the decade ahead of us.
On a personal level for the Security Industry Group, I'm looking forward to working with vendors to help them explain what it is they do in a more comprehensive way. I also hope that the industry continues to open up to propositions from emerging companies. They are doing very interesting things, Calipsa included, and could really challenge the status quo.
Calipsa uses the latest machine learning technology to reduce CCTV false alarms and enhance video monitoring efficiency. Interested in learning more? Get in touch!