Physical security
In the spotlight with Michael Askew: The state of the CCTV monitoring industry
Calipsa
12 August 2019
Physical security
Industry experts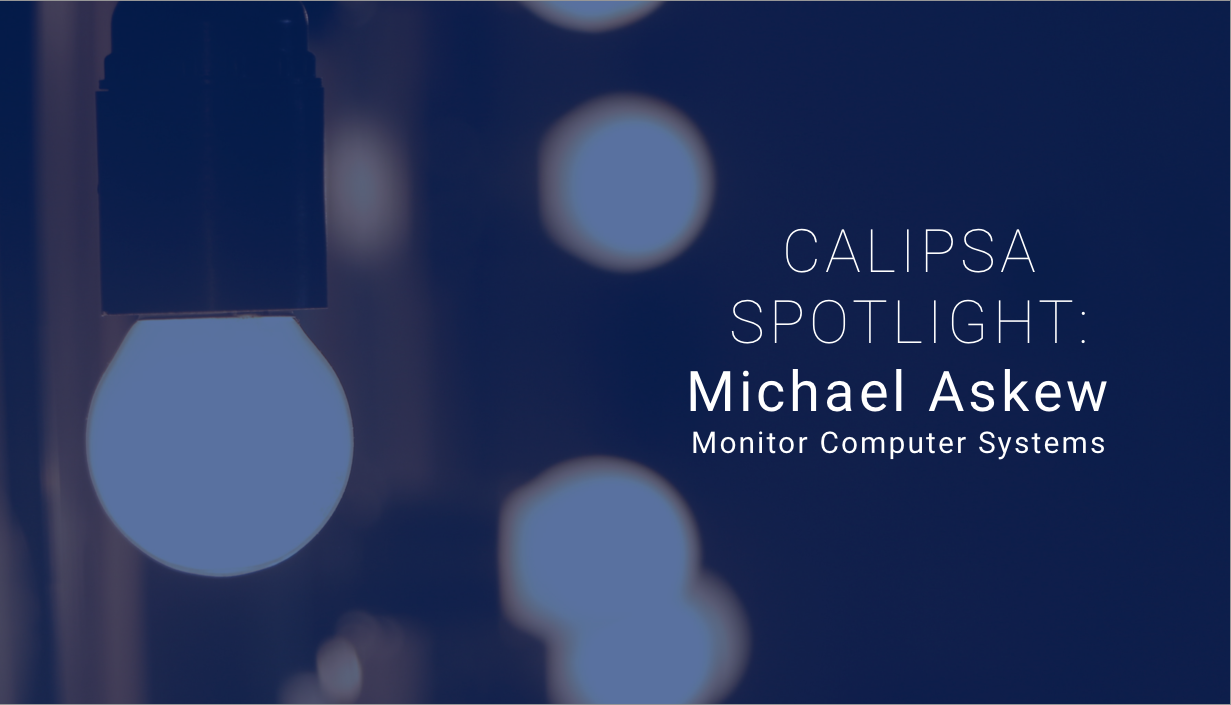 Michael Askew, Founder and Managing Director of Monitor Computer Systems, discusses the changes and developments in the CCTV monitoring industry in our first Calipsa Spotlight interview.
The Calipsa Spotlight Series will bring you exclusive interviews and insights from some of the security industry's top thought leaders, innovators and influencers. With guests from the UK to the US and beyond, we'll be sharing the latest opinions on topics such as video monitoring, artificial intelligence, remote guarding and much more.
In our first Calipsa Spotlight article we interview Michael Askew, Founder and Managing Director of Monitor Computer Systems. We spoke to Michael about his innovative alarm monitoring software Sentinel, his views on the current state of CCTV monitoring and his predictions for the future.
Tell us a bit about Sentinel
I founded Monitor Computer Systems in 1984 after identifying a gap in the market for an alarm monitoring package for the UK security industry. I built Sentinel, our alarm monitoring platform, and acquired a grant from The Department of Trade and Industry to make the product a reality. Since then, the business has grown considerably and we now work with 65 monitoring centres worldwide. We have also been able to diversify our range of monitoring services to include video monitoring, vehicle tracking, lone worker protection and environmental monitoring.
How has the CCTV monitoring industry changed over the past 10 years?
Traditionally monitoring was limited to standard alarm intruder panels, fire alarms etc. This created a static market which was largely driven by the insurance industry because companies had to have a suitable alarm system to an appropriate standard in order to be insured. This is still the case to a degree, but with a number of developments.
Monitoring technologies have progressed due to the growth of the Internet and broadband. High bandwidth communications allow video monitoring to take place at a reasonable cost, which has increased the scope of monitoring. Services can now also be provided on a cloud-based system. Mobile too has played a role in changing the industry. It is now possible to provide monitoring services using mobile devices, even including video monitoring thanks to 4G.
Have the changes been positive?
It's too complex to just label it as black or white, positive or negative. The fact that we now have a much wider range of services is good. However it is also true to say that when you start to deal with mobile instead of wired networks, services become much more vulnerable to drop-outs due to extraneous circumstances.
As we now monitor external properties with video motion detection, we are seeing high false alarm volumes. Internal intruder alarms generate very few false alarms. Video motion detectors can create hundreds of false alarms as a result of wind movement, wildlife, rain, sunlight, reflections etc. This places a heavy burden on monitoring centres and is labour intensive for operators. This is where Calipsa comes in, providing a new form of affordable video analytics to reduce false alarms drastically.
How has video analytics influenced video monitoring?
When video analytics first appeared it was thought to be the answer to everyone's false alarm problems. However, it is actually an extremely difficult task to adequately distinguish between a crime in progress and some other cause, such as weather or wildlife. False alarm reduction is extremely difficult to do. The best analytics can be individually tuned to the camera in question but this is expensive and so has limited use.
In lab conditions video analytics systems can look promising but in real world conditions it is just very difficult to achieve precision. Things have come on considerably, but we are probably 10 years behind where we first thought we would be and are only just on the cusp of having affordable top flight solutions.
Are there any emerging trends you are noticing today?
My commercial observation is that major players now wan recurring income. They want to sell software as a service (SaaS) or hardware as a service (HaaS) on a monthly recurring basis rather than a single product sale. This works better for businesses in the industry and fortunately a lot of the things we want to have these days lend themselves to that. For example, general IT infrastructure can be expensive to install in the first instance, and expensive to provide in-house expertise to look after it. These are 2 big expenditures, both upfront and ongoing. A modest recurring cost for a hosted solution where someone else solves your problems is therefore efficient and attractive.
What are your views on the use of artificial intelligence in the security industry?
Artificial intelligence has some big wins under its belt and has a lot of potential. But security is often a grudge purchase required by the insurance industry. This drives down the price of security services. To make things cheap, the best thing you can do is run as much through an automated system as possible. But this isn't the same as AI, it's just simple automation. I believe we are a generation behind AI. The security industry is in the automation phase, rather than the AI phase of its development.
What role does Sentinel play in supporting security professionals?
Sentinel provide a platform that is stable, scalable and broad in its functionality. This allows any organisation that goes to the trouble of creating a 24-hour centre (which is inevitably expensive to run) to justify its cost by accessing Sentinel's broad range of services. Sentinel also provides a level of 24-hour support which is second to none - essential for a mission critical system protecting life and property.
The product itself is also undergoing a continuous process of extension and improvement. Sentinel customers are entitled to 5 upgrades per ear, including new product integrations, software enhancements, new features and new technologies.
Tell us how about the Sentinel and Calipsa partnership. How does it work and what are the benefits to monitoring stations?
The industry is facing the need to reduce false alarms drastically. There have been various forms of analytics attempting this but they have been too expensive or ineffective to take hold. What we found interesting is that those of our customers who have trialled the Calipsa False Alarm Filtering Platform have found it to be excellent in differentiating between false and true alarms. The function to administer masking areas on cameras is a big plus as well.
Customers wanted to take advantage of the false alarm filtering process from Calipsa as it provides an effective and affordable method for false alarm reduction. The Sentinel and Calipsa partnership means that monitoring stations can benefit from the large number (90) of video integrations available with Sentinel. Anyone using Sentinel can now start reducing false alarms immediately through our 1-click integration. Sentinel decodes the CCTV video and forwards it to Calipsa who review the alarm. Sentinel then receives the response with an indication in video markings as to where the movement is.
This is extremely helpful to operators who now have fewer events to deal with. They are then able to give better attention to the events they do have, responding more quickly and efficiently.
What are your predictions for the next 5 years in the industry?
The next five years will see a continuing trend to more Internet-hosted subscription services, more automation and a partnership between self-monitored end users and the managed 24-hour monitoring services that can be offered by traditional ARCs.
---
Get in touch to find out how you could benefit from Calipsa's partnership with the Sentinel alarm monitoring software.