Physical security
"Beige gold": how cardboard theft is costing cities millions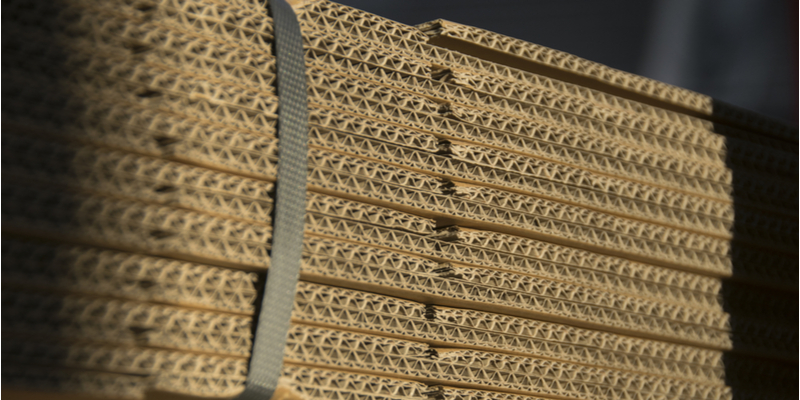 Most of us assume that the cardboard we leave out for recycling is of little value, but there is profit to be made from it - legally or otherwise. Cardboard theft is on the rise around the world, as criminal gangs intercept bundles intended for recycling and sell it on, costing the legitimate recycling industry millions. In many cities, this has a knock-on effect for local authorities, who take a portion of waste management companies' sales.
Rising scrap cardboard prices
The so-called "beige gold" is bought for around £70-£80 per tonne, although price fluctuates depending on global demand; at the beginning of the coronavirus pandemic, scrap cardboard cost around £120 per tonne, and it has been known to rise to as much as £200 per tonne in the past. Recycling and waste management companies profit from selling cardboard internationally to be pulped and made into new boxes.
In the last ten years, China has imported the vast majority of cardboard for recycling. However, countries such as Malaysia, Turkey and Thailand are set to take over as China plans to ban all imports of cardboard in order to stimulate its internal recycling industry. Industry experts believe this change is unlikely to deter criminals, who will simply divert their operations to new countries.
Cardboard trafficking gangs: a worldwide problem?
The city of Madrid was hit particularly hard by organised cardboard theft in 2018-19, where it was estimated that almost half of all cardboard put into recycling in the city was being stolen. The Spanish Guardia Civil police force was brought in to handle the situation; they established that the trafficking gangs had 18 different routes around the city which they would travel, raiding recycling bins before the local rubbish collection had made its round.
In February 2020, the Guardia Civil arrested 42 suspected cardboard traffickers on suspicion of environmental offences and money laundering. The gang set up a company where they mixed legally sourced card with stolen card to make their profits harder to trace, before exporting the waste to south-east Asia for pulping.
They operated on 11 of the 18 known routes the police had found, and while their trial has been paused due to the coronavirus pandemic, it is estimated they cost the City Council of Madrid €16 million in lost recycling revenues.
Madrid is not the only city affected by this growing crime: several cities in the United States have also reported cardboard trafficking gangs siphoning millions of dollars away from legitimate businesses. It is especially prevalent in New York, where thieves are suspected to cruise slowly around streets in rented trucks, picking up bales of cardboard as they go.
Authorised waste-hauling companies arrive at pre-arranged pickup times, only to find the waste they have been paid to collect has already been taken. A recent report suggests that it is costing New York businesses as much as $10 million.
Illegal cardboard recycling - easy to target, hard to trace
So why now? One reason is the rise in online shopping, with many goods now packaged or sent in cardboard boxes as retailers make greater efforts to dispense with plastic packaging. At the same time, law enforcement has clamped down on crimes like scrap metal theft, which has led criminals to look for other ways to make money.
Mark Hall, spokesman for Businesswaste.co.uk, says: "While the CCTV cameras and alarms are all trained on the scrap metal bin, thieves are finding easy money elsewhere. And most of the time it's ready for them in easy-to-handle bales." It certainly is made readily available; recycling bins aren't usually considered a target for crime, and at the end of the day, most businesses either leave their cardboard out on the street or in designated waste areas.
The main victims of this crime are therefore the recycling and waste management businesses, who are now calling for stricter rules and greater involvement from law enforcement. Mark Hall continues: "It's not a victimless crime. They're taking money out of the pockets of small businesses who are being paid per ton of their recyclable waste. That's straight-up theft. And they're also taking money out of the pockets of waste management companies who make money from collections."
---
Stop thieves in their tracks with the help of intelligent video analytics. Learn how to turn your CCTV footage into actionable intelligence with Calipsa's FREE whitepaper, "The Secret to Better Security: Intelligent Event Driven Video Monitoring":
Editor's Note: This post was originally published in Sep 2020 and has been updated for accuracy and comprehensiveness.