Technology
Calipsa's CTO explains how we developed our award-winning products
Boris Ploix
26 April 2022
Technology
Product
FILTER_Technology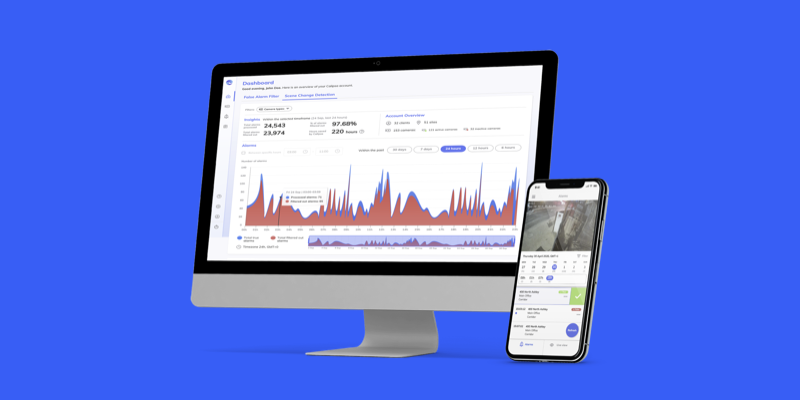 Calipsa's CTO Boris Ploix takes us on the product development journey, from False Alarm Filtering to Pro Analytics.
Calipsa's mission is to automate CCTV monitoring. That has been our objective for the last 6 years, and today Calipsa is installed in over 20,000 sites worldwide.
Our software can connect to cameras remotely, giving greater visibility to security staff in areas where no one is supposed to be. It detects any human activity (vehicles or people) in the scene; if it spots human activity, it will forward this intrusion detection to the CCTV operator.
At the same time, it filters out all the false alarms, "noise" like tarpaulin moving in the wind, or wildlife. Calipsa's analytics act like a firewall and only present security staff with the images that could be suspicious activity.
Example of an intrusion detected by Calipsa
When others zig, we zag: why we chose the cloud
Historically, two different approaches have been used to solve the false alarm problem. Most manufacturers have focused either on edge detection by building a better camera, or by having expensive servers on site to process the video stream from connected cameras.
Both approaches have major limitations. Purchasing and installing new improved hardware is usually long and costly for the customer. These systems often have physical constraints which could limit their improved accuracy, since it is neither easy nor cheap to upgrade equipment on site. As a result, many security companies who monitor cameras remotely still suffer from false alarms even when the technology is fairly advanced.
The cloud offers far more flexibility and scale than device- or server-based technology. However, no one really considered it since the bandwidth needed to stream video and then analyse it would be prohibitively expensive from the client and the server perspective.
Calipsa found a way to make the cloud work. Our False Alarm Filtering Platform was the first event-based monitoring software which both benefited from the flexibility and scalability of the cloud and would also work with existing infrastructure. How?
Connects seamlessly to the cameras already installed
Processes alarms from existing analytics
Reduces the noise in monitoring stations by only providing true alarms
We achieved 99.95% accuracy by using the latest AI technology - computer vision. By using only a couple of images from the camera instead of a continuous video stream, we also figured out a way of using the cloud that was scalable and affordable.
Making a great product even better
So, we built a cloud native platform that could extract images from any camera, apply some intelligence to it, index it and finally forward the output to the customers. The first application was false alarm filtering. What next? We quickly realised that we can add more intelligent features to our original product, which would give our customers even greater value and applications.
Calipsa's cloud infrastructure
Intrusion detection is not the only commercial application developed and sold in the security industry. It is actually one of many: security applications such as facial detection, gun detection tracking etc. are being developed and improved all the time. Most of the companies out there are developing solutions to those problems by putting more hardware on site - but as with intrusion detection, this means shipping in better cameras or expensive servers.
We realised we could bring our agile, cloud native approach to more than just intrusion detection. Using our existing infrastructure, we wanted to see if we could add features like additional analytic intelligence, enhanced information retrieval and camera health checks. Was it possible to provide these services without any on-premise hardware, and using only a couple of camera images?
The big questions we had were which direction we should go in first and the product we should prioritise. We got our answers from our customers, who have always given us plenty of feedback and great insights into how our technology helps solve their problems and make them more efficient. By partnering with some of the best security companies in the world, we were able to develop a product roadmap shaped by their input.
After listening to our customers, we decided to build solutions that would bring them the most value and could also open up new opportunities for security teams in the enterprise world.
After many months of development, we came up with the following four products:
Detect

Detect Pro

Protect

Investigate

Calipsa's flagship technology – optimise event-based video efficiency by reducing false alarms
Enhanced health check bundle - reduce the risks associated with faulty cameras or camera tampering
Metadata-based real time alerts – equip cameras with additional analytics functionality for advanced monitoring
Metadata-based video summarisation – use Calipsa retrospectively to search and investigate activity

False alarm filtering

True alarm highlight

Alarm dashboard

Camera masking

Site scheduling

Advanced reporting

Tampering detection

Idle camera alerts

Camera health checks

Camera health dashboard

Advanced filtering classifications

Email notifications

Loitering detection

Crowd detection

Zone detection

Forensic video search

Video summarisation

Similarity search
Where next for Calipsa?
This is just the first step of many. We are seeing a massive opportunity to disrupt the entire industry by leveraging the strengths and the cost effectiveness of event based cloud monitoring. Using the Calipsa way, we can offer all the different features that have been around for decades with better accuracy, at a fraction of the price. Our four new products are a starting point for Calipsa to build a product ecosystem that would make the latest AI security system affordable to the masses.
---
Intrusion detection, false alarm filtering, camera health checks, similarity search... discover how our Pro Analytics suite could transform your security setup by checking out our full product range here.