Physical security
In the spotlight with Craig Evans: empowering operators with a single solution
Calipsa
21 May 2020
Physical security
Industry experts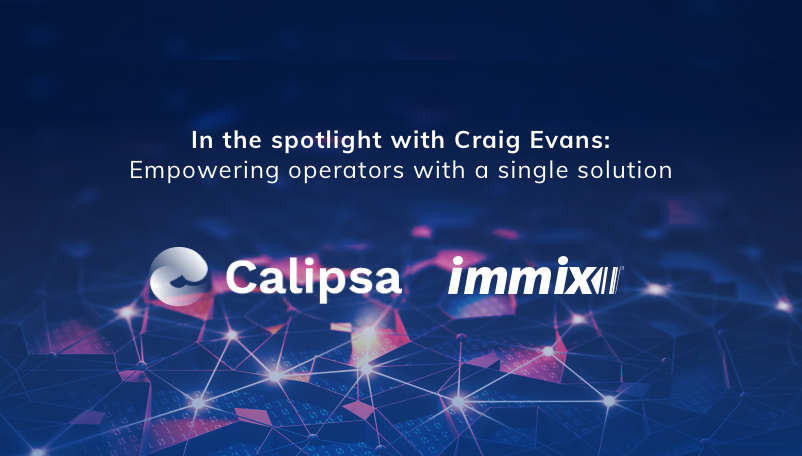 Craig Evans, Managing Director at Immix Software, discusses the changing world of video remote monitoring, and how Immix has become an industry leader in our latest In the Spotlight interview.
When it was first introduced to the security industry, Immix's software helped provide an effective solution for video monitoring stations. Which technologies will continue this trend, to make central stations and ARCs even more efficient?
In his interview, Craig takes us through his experience of the industry, his thoughts on Immix's exciting new integration with Calipsa, and the future of technology in the remote monitoring market.
Tell us a bit about your background in security and your role at Immix
Immix Software was one of the first in the industry to identify a need in remote monitoring businesses; they were looking for a single, well-architected product that would accept alarms from sites and match them with video feeds for operators to handle. Immix provided that solution. I was one of the founders of the company 17 years ago and have been MD since its inception.
What are the benefits of Immix for your customers?
At Immix we have always been singularly focussed on providing the specific tool for the job of running and building a successful video remote monitoring centre. Early on we recognised that our customers needed an easy to use, consolidated user interface that works across a wide range of products, and provides all the tools and features required to successfully handle alarms from sites.
Everyone at Immix Software works hard to maintain our position as the industry leader. We invest millions each year in software development, to ensure that we're continuously improving our product and the systems we support, so that we meet our customers' changing needs. The AI integration work that we have just completed with Calipsa is an excellent example of this.
How does Immix fit in the security ecosystem?
Immix Software has become an industry leader by developing close professional working relationships with all the major manufacturer partners. We work with over 200 different manufacturers across all aspects of the security business, and as such Immix supports an almost countless number of devices.
We're always working on supporting new or updated systems and on average we will release a new or updated integration every week. While one of Immix's strengths is a consistent user interface across all manufacturers, we also ensure that the features and functions supported by the device are available through the Immix interface.
How have you seen the monitoring industry evolve over the past 5 years?
There has been a continuous upward trend in the variety and volume of systems monitored. IP cameras have completely replaced analogue DVRs to become the standard in almost all new installs. The two successful Chinese manufacturers (Dahua and HIKVision) have dominated the market in the past 5 years due to their lower cost product ranges.
This has helped commoditise the installation of cameras to such an extent, that I believe the challenge has been for monitoring stations to ensure that they are accepting a quality installation with as few false alarms as possible.
As a global company, Immix works with a huge range of security companies. What have you noticed about the security landscape in different regions?
We have found that there is an enormous amount of consolidation worldwide around the same products and systems. Although Immix is a global company, supporting monitoring stations in over 40 countries, we see a common trend throughout the industry of companies needing a reliable way to accept connections from the latest devices on the market, while maintaining the ability to support older systems that have already been installed. The need for false alarm management and reduction also holds true for our customers around the world.
What opportunities do you see new technology, such as AI, bring to the security industry?
The benefit of linking Immix with AI technologies has the potential to be a game-changer in the industry: alarms are filtered, false alarms are removed and the alarm volumes being received by central stations are drastically reduced. This will provide huge benefits for the end users, with a better chance of timely intervention when needed. It will also enable the operators in a central station to become more effective at their jobs.
For many stations, this can also free operators' time to provide additional value-added opportunities, such as proactive virtual guard tours or a virtual concierge service, as they are not being continually tasked with picking up unnecessary false alarms. Looking ahead, AI technology has the potential to dramatically increase the revenue opportunities for monitoring stations while reducing their overall costs.
What are your predictions for the next 5-10 years in the security industry?
I foresee local IP camera recording being replaced with cloud-based solutions as they become more commoditised. This is especially likely to grow in popularity in remote locations where a simpler install is required, particularly as the cost of the 4/5G bandwidth continues to drop.
We have also started to see far more acceptance of CCTV cameras in domestic and micro-business settings. Google Nest / Hive / Arlo etc are opening up the mass market and manufacturers such as HIKVision and Dahua are also making commercial-grade systems cheap enough to be installed anywhere.
Many of these new customers already pay a monthly subscription to the camera service provider that varies for different service levels, so they are already accustomed to paying for a managed CCTV-based security service. Through the specific use of AI to minimise false alarms from these self-installed systems, it would be natural for the service to be extended to commercial-grade monitoring. This would open up a huge and currently under-served source of new connections with the corresponding additional revenue opportunities, but only for validated pre-filtered alarms.
I also foresee that most existing monitored systems will standardise on the use of real-time cloud based video analytics, such as those offered by Calipsa. The concept of accepting alarms direct from the site for operators to process without having the alarm pre-filtered will become anachronistic.
---
Want to find out more about Calipsa's integration with Immix? Learn all about it in our webinar. Or, check out how Calipsa's False Alarm Filtering Platform could help reduce your monitoring station reduce nuisance alarms.