Physical security
In the spotlight with Ahmet Deveci: The state of CCTV installation in 2020
Calipsa
11 February 2020
Physical security
Industry experts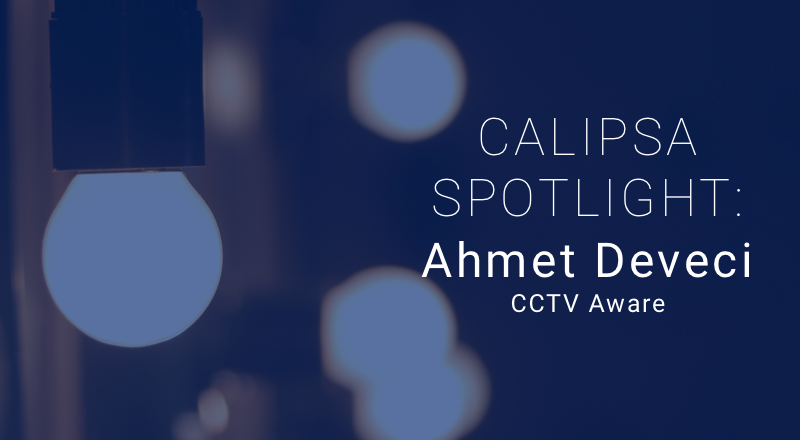 Ahmet Deveci, Director at CCTV Aware, takes part in a Calipsa Spotlight interview to share his insights into the changing face of the UK CCTV installation market.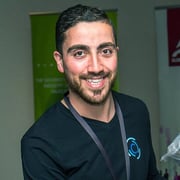 As Director of CCTV Aware, Ahmet Deveci knows first hand what it takes to deliver the highest level service in CCTV installation. With advances in technology, the rise of domestic CCTV and social media marketing all paving the way for the growth of the installation industry, there is an abundance of opportunity for CCTV integrators and installers to expand on the services they offer.
In his interview, Ahmet shares his experiences of CCTV installation in the UK including; how he uses social media to grow his business, the role of technology in improving installations and the trends he is seeing now. Plus, he also shares his predictions for the future.
Tell us a bit about your background and your business, CCTV Aware

I've been in the CCTV industry for around 6 years. Prior to that I was a Police officer so I have a strong background and wealth of experience in crime and criminality. My experience in the Police is what led me to go into CCTV. When I founded CCTV Aware, I spent a year doing research and development to create the best possible packages and to develop the necessary marketing. Then I started to trade. We are a small family business; I own and founded it but do a lot of the residential installations myself. Our focus is primarily on the residential market but we also do some commercial work when requested.

What are the current trends in CCTV installation?
The introduction of video doorbells has created a lot more demand for more formal home security. These products have had a large impact on the overall awareness of the use of CCTV for residential properties. There is, of course, also the trend of smart homes and the use of AI. AI has gone from being a term used quite loosely to becoming much more real in our everyday lives. Calipsa is just one example of a company using it successfully. AI is certainly a trend that is here to stay long term.
How has demand for video security changed over the past few years?
I believe that 1) Evidentially it is always going to hold more weight in a court over an intruder alarm, if there was a genuine incident. It has a tangible element to it where you can take that evidence away. I think this is one reason it has increased in popularity. 2) Intruder alarms, over the years, have gained notoriety for being a nuisance. They keep going off and most people just walk past when they do, thinking it's a false alarm.
I think it's the decline in popularity of intruder alarms that is having a positive impact on the demand for video security. End-users are becoming more aware that visually verified systems and video monitoring are more of a deterrent.
What do you think the biggest challenges are for installers in the UK?
The biggest challenge is definitely education. We are trying to educate end-users about the products and technology available and the value they can offer. Within the industry, a lot of people fear and have concerns over DIY installations. Personally, I don't think this is too much of an issue, but it is certainly the case that education as a whole is lacking.
How is new technology impacting CCTV installation?
Technology definitely has a positive impact on installers. It makes things a lot quicker and simpler for us and allows us to offer a lot more to the end user. But there's a fine line between things being simple, or too simple. If it's too simple, why would you employ a professional installer? Installations always need to be done by a professional as this is the best way to get the most value and highest level of service from any technology whilst ensuring it has been installed in a legally compliant method.
As video analytics become more intelligent, how can installers benefit from such advancements?
Video analytics are a fantastic tool. At CCTV Aware, we don't use them much, simply because the company's formation is around domestic CCTV and there is less of a need for them. As a whole, it's good because it opens people's eyes to the fact that there's more value to be gained from video surveillance than just standard security. Video analytics have such vast use cases, for example seeing how much stock is available in a shop. The analytics side of the surveillance industry helps people become more aware on many levels.
How important is good marketing and social media in promoting security products and services?
Extremely important! So many people don't use it enough. I took CCTV Aware from nothing to where it is today using social media and I'm a massive advocate of the power of social media. Both personally and for brands. Once you start to overcome your fears of putting yourself out there online, it has so much potential.
How have you used social media to grow your business?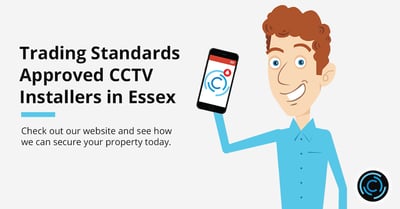 The key is to success is consistent, relevant content. But there is no measure to what consistent means. It's unique to every business. If you post 3 times a day, every day that is consistent. Posting twice a week, every week is also consistent. You need to work out what works for you but ensure you don't just give social media attention for 2 weeks and then post nothing for months. You also need to ensure that what you are sharing is relevant. Ideally it will be about the industry that you are working in, you will let people know that you know what you are doing and therefore sharing relevant content within that field. [Left: Social media graphic used by CCTV Aware.]
What value do you see products like Calipsa's False Alarm Filtering Platform bringing to the security industry?
Ultimately Calipsa helps people be more cost efficient and allows them to save valuable resources that can be used elsewhere, other than dealing with false alarms. As a whole, I would imagine the kind of tech that is developed by people such as Calipsa saves tremendous amounts of time and money for the industry as a whole.
What predictions do you have for the future of the industry?
I predict that there will be a crossover between traditional tech companies, such as Google and Amazon, and traditional security companies, for example hardware manufacturers. There is going to be a need for collaboration. The tech giants are coming out with a lot of new software, analytics and features but their hardware just isn't quite ready for the mass market. Whereas the security industry is producing really good hardware because they have been doing so for such a long time. However, smart functionality and analytics are often missing. One of the two sides needs to play catch up. I hope that the tech giants don't become hardware giants and instead the security industry can catch up with their software.


Calipsa's False Alarm Filtering Platform uses the latest machine learning technology to reduce CCTV false alarms, simplify new installations and improve false alarm management. Interested in learning more? Check out our 'Calipsa for Installers' page or get in touch!