Physical security
In the spotlight with Kevin Vettorel: looking ahead to the Masterclass
Calipsa
18 October 2021
Physical security
Industry experts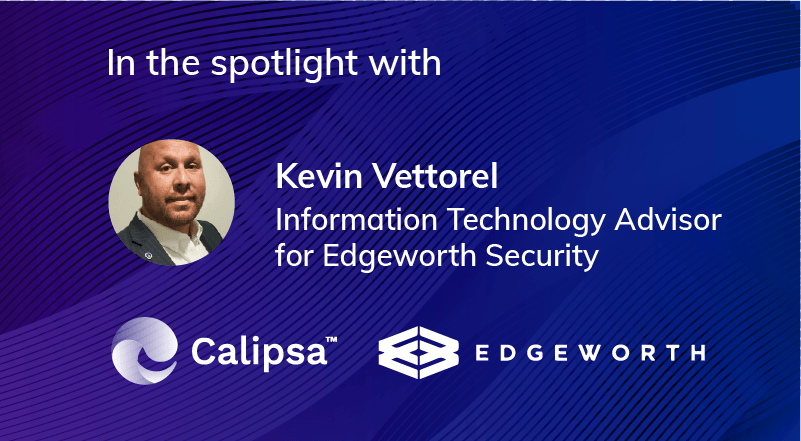 Kevin Vettorel is an IT Advisor at Edgeworth Security. He brings many years of experience in the military to his career in the security industry, and in his work he explores how to leverage AI, machine learning and threat detection in innovative ways.
We are delighted that Kevin will be a keynote speaker at the Calipsa Masterclass. Ahead of his session, we grabbed 10 minutes with him to find out more about his career, his thoughts on technology, and what he's looking forward to seeing in this year's Masterclass.

What is your background and how did you transition into the video surveillance industry?
I joined Edgeworth Security in early 2018; I had just retired from the military after completing 20 years in the Air Force. I was looking for a civilian career that would take advantage of my technical background and challenge me with new problems daily. It has been a great fit, as when I joined Edgeworth the surveillance industry was starting to move from strictly traditional measures to a hybrid approach, leveraging new technologies and ideas. The industry seems to have a high percentage of veterans, so there was not a major change in transitioning from the military to the security sector.
How has Calipsa helped you decrease and prevent over 3,000 crimes?
Mainly by helping separate the needles from the haystacks. My major challenges are reducing false alarms and time wasters that can slow an agent's response time down. By removing unnecessary alarms, you can set sensitivities that would otherwise overwhelm an operator, because we now have the benefit of an AI solution. The benefit results in more accurate triggers and a faster response because Calipsa can do the "heavy lifting", cutting out all those unnecessary alarms.
Where do you see the future of AI in video surveillance?
Just like almost any sector that involves technology, AI has the capability to streamline and automate manual processes. My dream goal would be to help work on AI that not only detects the person but can also rack and stack the likelihood of the person committing a crime. For example, someone in a restricted area at 3 am would have a higher weight assigned to that alarm, versus an 11 am person walking on a sidewalk. I believe that AI can ultimately refine and get more accurate "true" alarms to operators.
What plans do you have to expand Edgeworth's business and services in the future?
We are constantly looking for ways to expand and grow our business. Within the last 2 years, we have been able to offer multiple service options outside of our standard remote guarding solution, by leveraging technology and tailoring solutions to our customer's needs. As we learn from these experiences and get positive feedback from clients, we continue to retain more business and expand these new solutions to meet demand in the marketplace. This, along with leveraging current and new partnerships with other companies to resell or refer our service, will continue our plan for expansion.
You will be speaking at our upcoming Masterclass in November, what are you most looking forward to?
I am interested to see what solutions others have used to solve the same problems. When it comes to technology, there can be several ways to get to the same end state, but some are more optimal than others. We have been working with Calipsa for almost 4 years and are looking forward to seeing what new offerings are coming down the road.