Physical security
In the spotlight with Luis Fernando Uribe Blum: becoming a national industry leader
Calipsa
16 September 2021
Physical security
Industry experts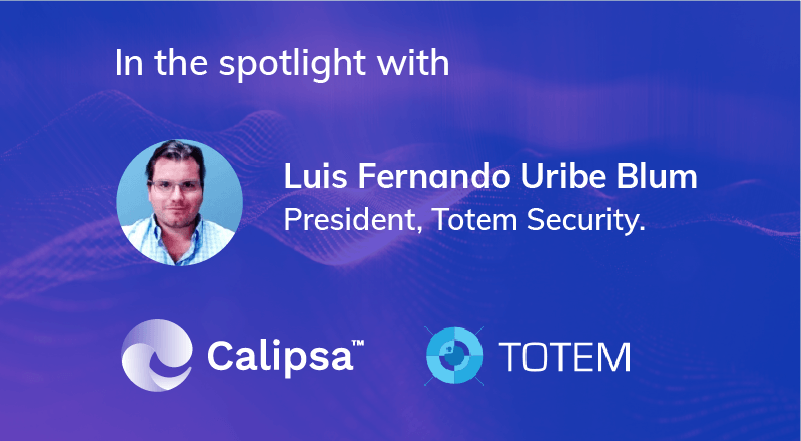 Since 2005, Totem has grown to become the biggest security provider in Ecuador. They specialise in the engineering, construction and integration of electronic security systems - including video monitoring.
Luis Fernando Uribe Blum is Totem's President, and with his years of experience in the security industry, he has led the company to the forefront of the Ecuadorian security industry. We asked Luis about Totem's remarkable growth, and how Calipsa has helped improve video monitoring services.
Read about Calipsa and Totem Security in Security Info Watch.
How did you become the biggest security provider in Ecuador?
From 2005 to 2012, we were a provider of security equipment like any other. In 2012, we began to provide video monitoring services to the shrimp industry in Ecuador - as one of the largest producers of shrimp in the world, this industry really helped the company's growth, along with our new service.
We began to implement FLIR thermal cameras in the farms, and to provide monitoring services. We grew rapidly and by 2015 we already had 100 employees in the monitoring area.
Then, we decided to shift the focus of our client verticals; we provided the same services to our industrial and commercial clients. Basically, our sales pitch is to reduce the business cost of security guards by installing CCTV, alarms systems and access controls with a remote monitoring service. This proposition has worked really well across our entire client base.
Now, we are monitoring approx 6000 cameras and we have 180 staff members in the monitoring area. Currently, this makes us the biggest monitoring center in Ecuador.
What role does video monitoring play in your overall suite of security services?
Our video monitoring service is 85% of our annual revenue, at the moment. However, we provide a range of integrated services including: fire detection and extinguishing systems, access, lighting and intrusion systems, home security, and even solar panels to help power security camera networks.
---
Find out more about how we work with Totem here, and learn about all our security partners:
---
What are the unique video monitoring challenges of protecting sites in all the different sectors you work with?
Shrimp farms have very specific requirements: we are on the lookout for real time intrusions over a very large area. We use thermal cameras and motion detection analytics to spot any intrusion from the perimeter. Robberies are normally committed in 20 minutes, so we need to be able to detect any intrusions as quickly as possible.
To protect offices, banks, and warehouses is much simpler, because we normally use redundancy in the systems we install. For a normal commercial premises, we install CCTV, alarm panels, access controls and fire systems.
We also use video analytics with our security cameras, which helps us reduce our operation charge for our operators.
As early adopters of dual thermal cameras in your region, what were the benefits and difficulties?
False alarms are still an issue and that is why 70% of our monitoring staff focus solely on protecting the shrimp industry; 130 people monitoring 1000 cameras. We have another 80 people monitoring almost 4500 cameras, so you can see the difference between shrimp farms and other sites such as industrial or commercial premises.
However, we are now using technology that should help us to reduce our false alarm rate by up to 99% - which would make a huge difference to our operation.
How has Calipsa helped you provide your video surveillance services?
Calipsa has been a very important partner for us on two counts: in order to improve our monitoring service, and also to be able to assign more cameras to our operators. We are currently making time savings of 50% in our video monitoring service, thanks to Calipsa's video analytics.
---
Learn more about how Calipsa works for businesses like Totem Security and watch our demo video: