Physical security
Are video analytics the solution to solar panel theft?
Calipsa
15 July 2021
Physical security
Security for businesses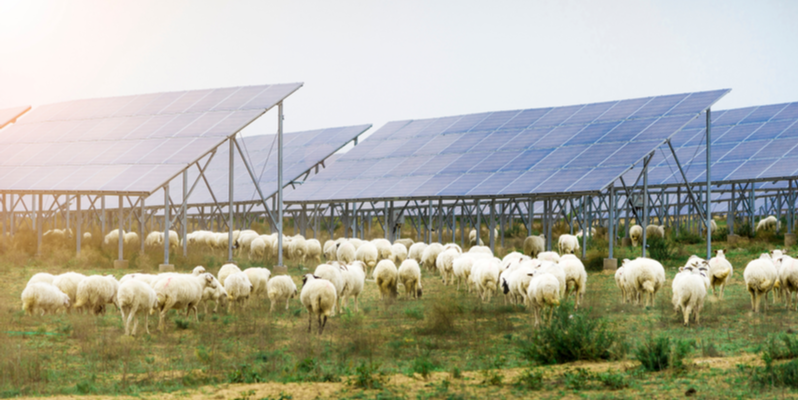 Towards the end of 2019, the UK's renewable energy sources provided more electricity to homes and businesses than fossil fuels for the first time. 6% was powered by solar energy, generated in hundreds of solar farms around the UK. These farms are usually located in remote, rural areas and contain valuable equipment, which makes them easy targets for trespassing, vandalism and theft.
Do solar panels really get stolen?
Unfortunately, yes. In August 2019, 168 solar panels were stolen from two solar sites in Wales; local police suspected that the theft was carried out by professionals, who planned to sell the stolen panels on the black market. With a single solar panel costing in the region of £5,500, solar farms are at risk of being hit with very costly losses and repairs following an incident like this.
It's not only solar panels that are targeted. As recently as July 2020, police in North Yorkshire reported that several kilometres of cable were stolen from Boscar Grange Solar & Energy Farm. Solar farms are full of equipment that can also be stolen for scrap metal.
Often, the people hit hardest by these thefts are agricultural landowners and farmers, who develop solar farms on their land to diversify and supplement their income. The NFU Mutual estimated that in 2018, rural crime cost the UK £49.9 million. While farms need to protect their vehicles, fuel and livestock, they might not have anticipated that solar equipment is also at risk of being stolen.
Reducing solar farm theft with remote security cameras
Many solar farms have responded to the risk of vandalism and theft by improving their site security. One effective method regularly implemented on solar farms is remote CCTV monitoring, which allows for round-the-clock protection and a quick response to potential intruders.
However, in such remote, rural locations, sensitive security camera sensors pick up a lot of movement that is not human - local wildlife generates plenty of nuisance alarms for monitoring stations to deal with. Yet it's sheep who are far and away the biggest trigger of nuisance alarms, as they are needed on site to keep the many acres of grass short.
Ed Smith, Deputy Head of Security Services at Oakpark Security, explains why monitoring solar parks can be challenging for monitoring station operators:
"Providing a remote monitoring solution for such large, open spaces is often a challenge for our electronic security teams. Solar farm panels are often without a hard perimeter which increases the risk of interference from wildlife of varying size, while the number of false activations also increase because of exposure to the elements.

"The potential for expensive damage to be sustained by the panels makes it essential that false alarms are kept to a minimum and that genuine intruders can be identified quickly and clearly by CCTV operators."
As we head into the summer, keeping on top of alarms triggered by wildlife and rogue sheep is going to become increasingly difficult. So how can video monitoring stations like Ed's keep on top of the growing false alarms they are likely to see as the weather warms up?
---
Want to know the secret to better security, greater ROI and more effective use of time and resources? Download our FREE whitepaper:
---
Video analytics - an intelligent solution
An intelligent video analytics platform can help security firms reduce the volume of nuisance alarms and pinpoint the genuine alarms that need validating. Filtering out the noise of false alarms gives monitoring operators more time to concentrate on genuine security threats, which makes their job easier and improves overall service levels.
Omar Abu-Rish is a former SOC Manager at Securitas; his team used Calipsa's video analytics solution to help ease the burden of nuisance alarms:
"The necessity of sheep grazing on solar farms is a challenge for monitoring stations and their continuous movement has increased alarm volumes. The ability to apply advanced analytics to deal with this issue is critical to running a cost effective security solution.

"Calipsa has enabled leaps forward to be made in improving security on solar farms due to the industry challenges faced by false alarm management."
Video analytics enables security firms to manage alarms more effectively, which in turn enables more insightful reporting and future planning. Monitoring stations can offer their customers much greater value for money, as they too have found a solution that makes their operations more cost effective.
Reducing noise for operators also increases their capacity to respond to more genuine incidents, which means that analytics can also stimulate business growth as security businesses are better equipped to take on more sites.
A sustainable future for solar farm security?
So are we likely to see more monitoring stations adopt video analytics as part of their solar farm security strategy in the future? As the renewable energy market grows, the demand for site security is likely to follow suit. Shires Crichton, CEO of Amba Defence, explains what this has meant for his business:
"The renewable energy markets are evolving, so the need for a comprehensive solution is incredibly important as we secure critical infrastructure. Amba's clients use video surveillance for security, asset management, health and safety and livestock monitoring.

"Our 24/7 control room has to handle a vast number of false alarms, so we're always looking for technology to manage them, including Calipsa's software and CCTV technology with advanced analytics. Using the latest mobile data solutions allows us to monitor even the most remote solar farm sites cost-effectively."
---
Want to reduce nuisance alarms on your solar sites? Discover how Calipsa improves security for critical infrastructure.
Editor's Note: This post was originally published in Jun 2020 and has been updated for accuracy and comprehensiveness.