News
GSX 2019 review: Calipsa brings False Alarm Filtering to Chicago
Calipsa
17 September 2019
Calipsa travelled to Chicago last week to exhibit at the General Security Exchange (GSX) 2019, organised by ASIS International. Taking place from the 10th to 12th September, the exhibition provided a platform to showcase the Calipsa False Alarm Filtering Platform to security professionals from across the globe.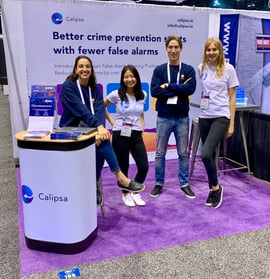 GSX is popular for being the most relevant and pioneering security event that unites the full spectrum of the industry, hosting attendees and exhibitors from across the supply chain and in various industries. This year it attracted over 20,000 delegates from over 125 countries who were looking for educational insights, new technology and solutions to their business challenges.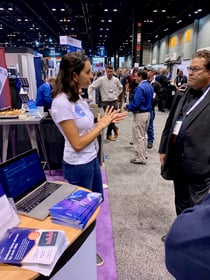 Calipsa took to the exhibition hall for the 3-day expo, during which we were able to introduce our False Alarm Filtering Platform to a number of security professionals, from a variety of backgrounds. We had the pleasure of engaging in many interesting conversations about the challenge of false alarms and the benefits that can be seen from improved false alarm reduction. Our stand was decked out with our latest content, including the Calipsa brochure and our latest case study with Acadian Monitoring Services.
Along with giving our team the chance to travel to and explore the fantastic city of Chicago, GSX also provided a fantastic opportunity to network with fellow security peers from every corner of the industry. With over 500 exhibitors and organised events such as the Opening Night Celebration, ASIS Happy Hour and President's Reception, GSX was able to bring together individuals from different countries all with different challenges.
We also had the opportunity to be interviewed by ASIS TV during the event, taking part in an interview with The Security Guy which delved into what Calipsa does in more detail. Watch the video below to see the full interview:



With the fresh perspective gained from our time in Chicago on the impact of false alarms on both business and end users, we are even more determined to bring our solution to as many people as possible.

We look forward to taking Calipsa to more events in the US and abroad in 2020, and hope to be back at GSX 2020 when it lands in Atlanta next September. Look out for more details of what we have planned in the coming weeks.

Want to reduce your false alarms? Get in touch to find out more about our False Alarm Filtering Platform.