Calipsa Partner
In the spotlight with Chris Brown: staying ahead with AI solutions
Calipsa
24 September 2020
Calipsa Partner
Physical security
Industry experts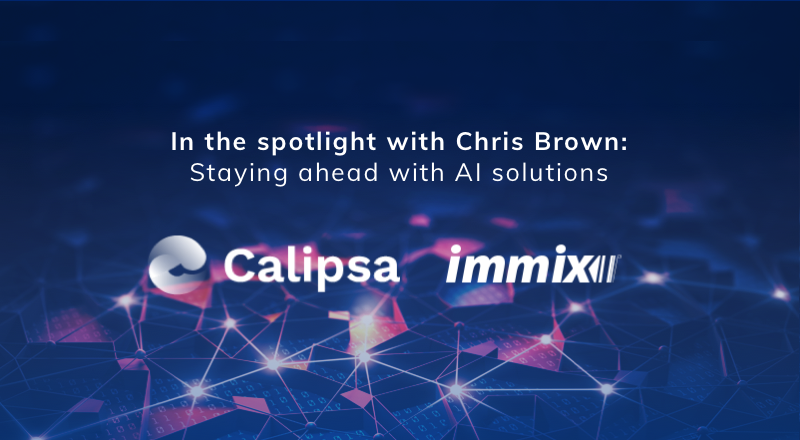 Chris Brown, the CEO of Immix, talks all things tech and AI in our latest In the Spotlight interview.
Immix software provides monitoring stations with incredibly efficient end-to-end event management, and according to Chris, integrating AI is the next big step. We discuss Immix AI Link, which seamlessly integrates Calipsa's False Alarm Filtering Technology into the Immix platform.
To learn more about the Calipsa/Immix integration, and to find out how it could work for your business, why not check out our webinar with Chris Brown:
Tell us a bit about your background in security and your role at Immix
As the CEO of Immix, I run the business end-to-end from a strategic and global perspective; I have been with the company for more than 7 years now. Prior to that I held various positions within the security industry, primarily focused on the video monitoring and managed video services sector.
I was the owner of CheckVideo, a hybrid hardware and cloud-based video analytic solutions provider and also served as VP of Operations for iVerify, a managed-video services monitoring center, for a number of years. All in all I have around 30 years' experience in security technology.
How does Immix make monitoring easier for your customers?
Immix provides a single pane of glass that allows a central station or SOC operator to process and manage an event from end-to-end through multiple disparate systems in the field, whether they be cameras, intrusion systems, access control systems or cloud-based AI solutions.
The Immix integration library is second to none, compatible with more than 500 manufacturer products on the market and gives our customers the strategic advantage of being able to monitor most any device, without needing to change anything within their current infrastructure, overhead or operational procedures.
In your experience, have you seen changes in the monitoring industry over the years?
I've seen nothing but change. How can you not as long I've been at this? The most significant changes involve the evolution of the "intelligence" of technology; for example, from a visual detection standpoint, the industry has gone from PIR and seismic sensors to motion detection within the camera to object-oriented analytics and now to advanced machine-learning AI that can detect very specific objects, behaviors, sounds and more.
It took a while for much of this advanced technology to garner trust with a lot of people in the industry, but that is not the case now. The trust is there and the speed of improvement continues to grow year over year. You see it in industries like the mobile communications sector and I think that security, particularly with regard to video and software that correlates to video, is seeing the same growth patterns.
---
Learn more about AI in video surveillance by downloading our free ebook.
---
What excites you about Immix AI Link, which integrates Calipsa's capabilities into the Immix platform?
Quite frankly, it's a complete game changer for not only our client base, but the video monitoring industry as a whole. It opens up so many new revenue streams for not only central stations, but installing integrators who resell monitoring through third-party providers.
It creates operational and cost efficiencies within a monitoring center that approach an order of magnitude in terms of the reduction of false and nuisance alarms and, thus, reduced overhead enabling centers to better deploy resources and offer new services.
What are your predictions for AI / technology in the security industry?
With all of the changes and advancements in security that I have witnessed over the years, I'm not sure I've seen anything quite like the explosion of AI solutions in the market today – some of which have very unique functionality. I expect this segment of the industry to expand at, quite possibly, a faster rate than we have ever seen from other products in the past.
---
Want to learn more about all the combined benefits of Immix and Calipsa? Check out our webinar with Immix CEO Chris Brown: